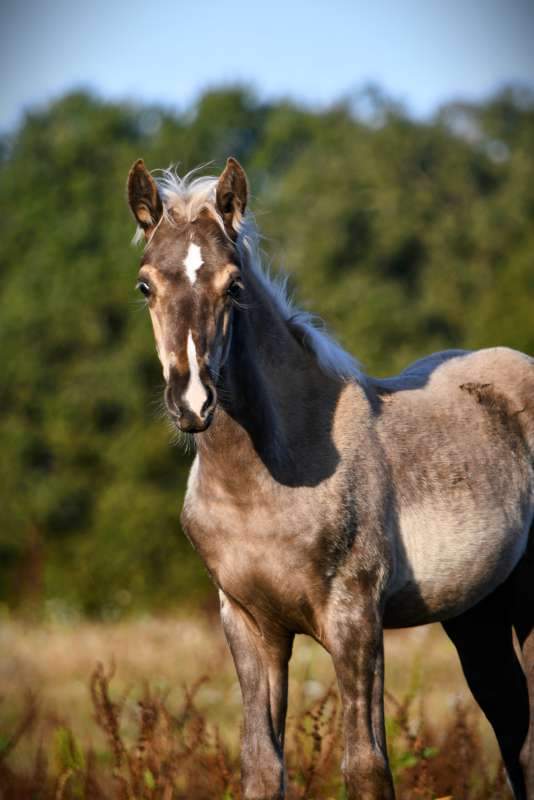 Sleepy Tiger Mountain Trooper
Son of our superb gaited horse McGuire's Kat and MVM Quarterback. A sturdy colt with, just like his full brother from last year, a lot of self-confidence! This delightful little guy is a typical Rocky. He has a lot of energy… lots of gait, will certainly reach a height of 1.50 to 1.55 meters. An expressive and friendly foal. He is already very people-oriented, will be dark chocolate with blonde mane and tail.
See our way of breeding and raising foals for more information. Or get in touch!
Axlar
Purchased for Kim when her riding horse had an injury. He's a sturdy Rocky cross (sire: EFM Rockin' Rocket), and his mother is an Icelandic x Fjord. Unfortunately, he didn't grow as tall as we hoped, and Kim kept getting taller and taller… 🫢 She now prefers riding a larger horse. Axlar is very handsome with his grullo color and long, thick manes. He is people-oriented and extremely friendly, always eager to work for you. We haven't seen him gait yet, so that will be a surprise… which is why we're not selling him as a gaited horse. He's approximately 1.47 meters tall, has a short back, is strong, but I think he's better suited for a smaller person. He's now 6 years old, and we've started with light work in the riding arena and a half-hour of outdoor riding, which is going very well. I believe that with more training, he'll be unstoppable, highly suitable for trail riding, long distances, trail rides, endurance, TREC, trekking…
Please feel free to get in touch if you'd like more information about Axlar!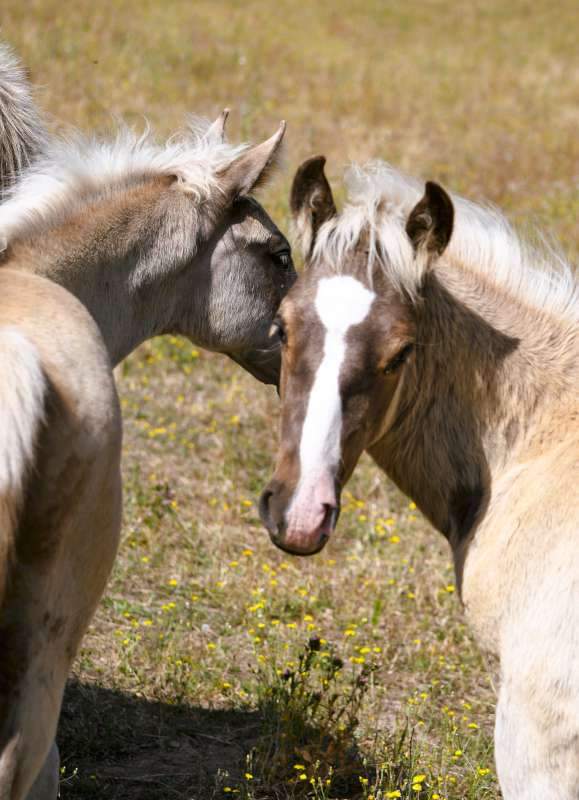 Tinker Rocky Cross and Full Tinker filly
Our foals spend every autumn and winter in a large herd to become super social… all the mothers with foals together with horses of different ages, geldings, young mares, and so on…
Our stallions stay with their offspring all spring and summer, but in the winter, it's challenging…
That's why we occasionally buy 1 or 2 mares to keep the males company.
Sometimes, these are not Rockies because I find it interesting to see how such a Rocky cross turns out… purely out of curiosity 😊
So, we bought two smaller tinkers that are 1.35 meters tall, and we ended up with a beautiful Rocky cross from them.
His name is Samwise Trooper, and at just 4 months old, he's already taller than his mother, so he might reach 1.45 to 1.50 meters? Very handsome, silver dapple, dark chocolate with white mane and tail. A sweet foal that will, of course, be just as well-socialized as our Rocky foals… very sociable, playful, friendly, funny… a unique horse for those who love them.
One of the Tinkers was already pregnant, and a full Tinker foal was born from her… our Spotify Trooper.
This headstrong, strong, funny girl is looking for an owner who wants to work with her or provide companionship for another horse. She's only 1 year old but could later be used for driving or as a riding horse for a child. She's sweet enough! And beautiful too…!
Raised in our incredibly friendly herd of Rockies, she's very social and delightful.
These two foals can be sold in combination with a Rocky foal, friends for life 💞